What is a "REAL" apology?
And when is a "REAL" apology necessary?
Lets look at that first question..
When do you want an apology from someone..
Usually it is when they have hurt you. When they did or said something that caused some kind of pain to you.
But it also can be when you observe a situation and you in your GUT feel like an apology is "in order"
Well I am investigating this thought process for a very unique purpose..
Biblically
... WHEN do you deserve an apology?
And this leads me to the question..
When do you need to forgive?!
That in itself is a TOUGH question..
How about we use GOD HIMSELF AS AN EXAMPLE?
When does God forgive sin's committed against him?
Matthew 6:12, 14 & 15
(King James Version)
12. And forgive us our debts, as we forgive our debtors.
14. For if ye forgive men their trespasses, your heavenly Father will also forgive you:
15. But if ye forgive not men their trespasses, neither will your Father forgive your trespasses.
Scripture tells us here that if we forgive others of the sins they committed in our presence.. That God will forgive us the sins we have committed in the presence of others.
**
Why don't I say the sins that were committed against us? Or the sins we committed against others??
**
Here's the answer.. NO ONE HAS EVER SINNED AGAINST YOU.. THEY SINNED AGAINST GOD..AND GOD ONLY..
I can hear you seething on the inside.. How do I know that.. Cause there is right now millions of sins that have been done to you that are running through your mind and your wanting to yell them at me..
But those things were done.. yes you were hurt.. but ALL SIN IS DONE IN REBELLION TO GOD.. Now that rebellion often has collateral damage.. per se the shrapnel hits innocent victims.. Which is why GOD so seriously hates SIN! Because it always hurts people.. There isn't anyone who is left unharmed from any sinful behaviors..

So when Sin is committed.. And we all commit it..
HOW DO WE FIX IT?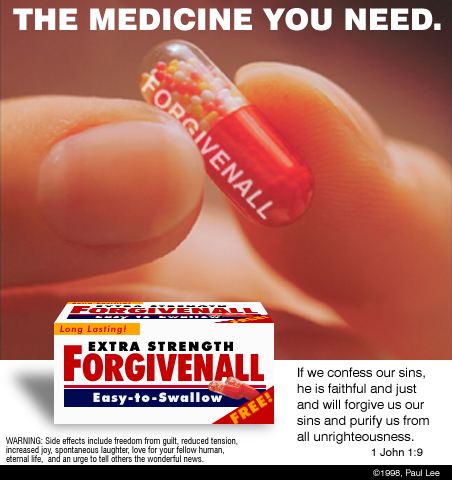 God has no questions about "IF" we will sin..
So he gave us a sure fire way to be forgiven..
It means in HUMILITY.. We must come into his presence... usually on bended knee and lay out before him what we did that was wrong..(Don't forget he knew you would do it.. before you did it.. and HE SAW YOU DO IT.. When you did it.. so be honest!) And he will forgive us our sins..
And I am learning that by doing so.. if we keep our sin list short.. We become more humble.. more kind and more easy to get along with..